REDDS now ranges biodegradable cold cups!
Biodegradable cups are plastic free, sustainably sourced and made from plant-based materials. They are the first – and ONLY – clear bioplastic cups certified to A4736 standards in Australia and New Zealand. Select styles are weights and measures approved, and all are available for custom printing.
How are biodegradable cups different?
1. Rapidly Renewable
Bioplastic is made from abundant, rapidly renewable plant starch. This material is rapidly renewable and biodegradable.
2. Carbon Footprint
The production of Ingeo bioplastic emits 75% less greenhouse gas emissions compared to conventional plastic.
3. Certified Compostable
Biodegradable cups break down into earth-friendly compost that can be used to fortify soil. How? Bioplastic will completely biodegrade within 120 days in a commercial compost facility. Compositing naturally and organically recycles the material along with any remaining food residue. This compost enriches and returns nutrients to the soil.
Note: to be composted, they must be commercially done so. If you wish to arrange a commercial composting service, please contact us for details and bookings.
The REDDS Bio cup range sizes available online are: 250ml, 280ml, 360ml and 420ml.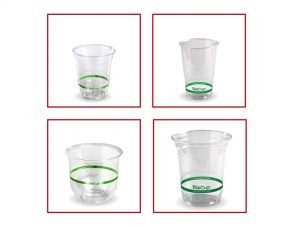 ---
Contact Us
For More Info
REDDS, the environmental solution: 
We are always designing and sourcing products that are thoughtful and sustainable. We have transformed major venue groups and supplied major liquor brands with eco-friendly product solutions. Interested in going green? Contact our team! 
---
Image via our friends at BioPak. 
---